Everyone has that little kid inside of them just wanting to break free. When we watch cartoons, we're easily entertained by the simple language, the colors, and the overacting of the characters because they stimulate the imagination. This is one good way to learn languages, values, and societal norms. The stories are simple and the language used is decent and well-pronounced. So, here are 10 cartoons and animations you must watch if you're learning the English language.
Sofia the First
Sofia the First tells about the challenges about a village girl, Sofia, who became a princess overnight when her mother married the widowed King of Enchantia. She's given a necklace with magical powers.
Not all princess stories are love stories and damsels-in-distress stories. Sofia is a very independent and down-to-earth girl. Most of her stories are about undoing wrong-doings. She teaches people (and animals) about finding the good inside of themselves and others. She also teaches people why being bad is not very good. Doing this, she tends to talk a lot and sing. Her dialogues and songs are very well-enunciated and easily memorized even if the pacing is moderately fast. The accents used here are neutral and not leaning too much on the British or American side.
The PJ Masks
The PJ Masks is a cartoon series about the adventures of Connor (Catboy), Amaya (Owlette), and Greg (Gecko) as the PJ Masks, superheroes of the night. As Catboy, Owlette, and Gecko, the PJ Masks use their powers to protect their neighborhood at night from people who want to ruin their day.
The PJ Masks' stories circulate more on personality issues being a crime and a hindrance to being a hero. Catboy is characteristically very self-centered, Owlette is very selfish, and Gecko lacks self-esteem. When the heroes are getting beaten, they suddenly realize that they have to set aside their personal differences and work as a team to beat the bad guys. A lot of the dialogues here use words used for activities at school. The pacing is not too fast and the vocabulary are well-pronounced and used properly.
Doc McStuffins
Doc McStuffins is a colorful cartoon that uses entertaining words and phrases related to the medical field. Doc McStuffins is a little girl whose talent is fixing or patching-up broken toys. Thus, she's dubbed as the toy doctor.
In the cartoon, toys that have been broken or have some other problems go to Doc McStuffins to have themselves fixed. As usual, they show the same fears and anxieties as all patients do. So, the doctor ends up singing to her patients to calm them down. She then explains the series of tests and check-ups she must do to get a "diagnosis." A huge variety of accents are used here, so you can get used to the different accents. Much of the vocabulary here are more of the intermediate level. However, the speech pacing of the characters is not so fast and are very well-enunciated.
Fancy Nancy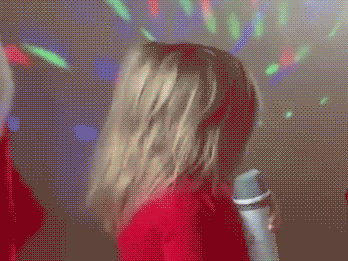 source: giphy.com
Fancy Nancy
is a relatively new cartoon. It tells about a girl, Nancy Clancy, who likes to pretend that she's very fancy. 
In the cartoon, Nancy is usually dressed in a tutu, boa, pearls, and pointe shoes. Nancy's play dates usually show her teaching her friends how to be fancy. She teaches them how to dress, how to act, and how to speak appropriately. Because she uses more advanced vocabulary to "sound" fancy, English learners will have great fun watching Nancy. The new words are often explained both verbally and visually.
Learn English Without Boundaries on Cakap. Download Now, FREE!
Blue's Clues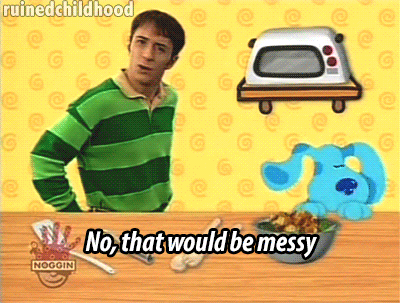 Blue's Clues is not exactly a cartoon. However, it is an animated interaction between Steve and his blue-spotted dog, Blue. The show is like a live game of hide-and-seek or go-fetch for the audience. Blue leaves paw prints as clues for the audience to guess what happens next.
The show is based on child development skills, so the words are simple and the pacing is not that fast. Most questions here are answerable by 'Yes' or 'No' – similar to that of Sesame Street. So, beginners may find this show more appealing.
The Muppets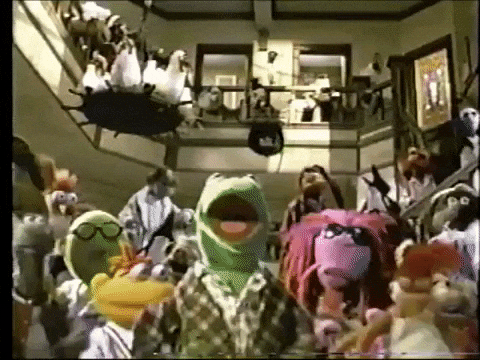 The Muppets is also not a cartoon but uses animated puppets as characters. The stories of Kermit the Frog, Miss Piggy, Gonzo, Fonzi the Bear, Animal, and many others are well-loved by both children and adults alike.
Much of the show involves singing and dancing, so it's quite entertaining. The shows also give valuable lessons for family, friends, and yourself. However, many expressions and vocabulary words used here are more advanced and more adult. So, if you're an adult learner, you may choose to watch the Muppets.
Sesame Street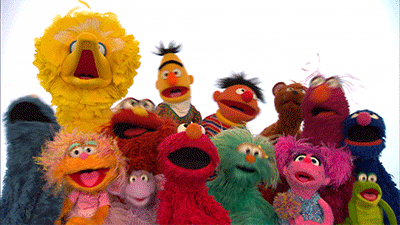 Sesame Street is an educational show that basically taught me and my international friends how to count and say the alphabet before I even started Kindergarten. This show has humans also interacting with animated puppets like Big Bird, Oscar the Grouch, Cookie Monster, The Count, and Elmo.
Because it's an educational show patterned to many curriculums, the content is very screened to cater to its child-audience. The language is very simple and the pace is very controlled. Every show features a letter and a number and words and expressions that go with that letter and number.
Curious George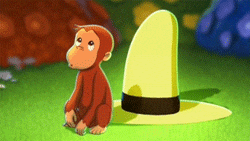 Curious George is a cartoon series based on the book series of the same name. George is a curious monkey that lives with "The Man with a Yellow Hat" (as his name was never revealed) in an apartment in the city.
Because this is based on a book and George is a monkey, the cartoon has a mainstay narration. So, you are literally watching an audiobook. Only the human characters have dialogues. This is great for English learners because the grammar here is quite good and easy to follow.
Dora and Friends
Dora and Friends is a cartoon series that revolves around the adventures of Dora, a child "explorer," and her friends. Dora is a Spanish-based character; however, she speaks in English.
During her adventures, Dora shows the differences and similarities of many things. Thus, vocabulary centers on synonyms and antonyms. Besides the well-pronounced words and slow-paced speech, the dialogues are also put subtitles in English to help the audience follow.
Dr. Seuss's – Cat in the Hat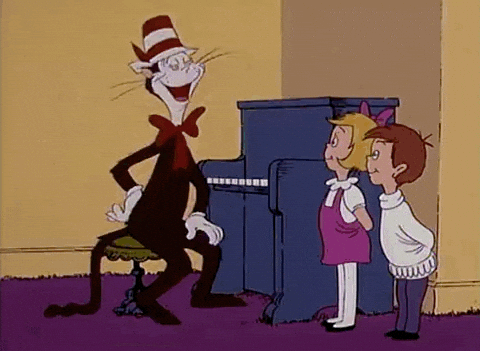 Dr. Seuss's – Cat in the Hat is also a cartoon series based on the book series of the same name. This cartoon is about the outrageous adventures of Sally and Conrad with their naughty friend, The Cat in the Hat.
For many, the dialogues here may seem irrelevant or even thoughtless. However, these stories have a lot of rhyming. So, the words ARE relevant and are used correctly. Also, many English learners may find useful expressions here that they may use.
Read Also: The 12 Verb Tenses in the English Language