Hello travelers from outside of Indonesia, if you want to come to Indonesia, come to Bali. Bali is the most popular place visited by many tourists. Starting from historic sites, recreation areas, and there are even popular night spots in Bali. Bali has many great places to go when the holidays arrive, they are suitable for all ages. Especially for you guys who like to post photos on Instagram. Here are some great places to go in Bali.
Kuta Beach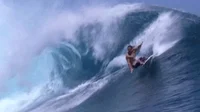 Who does not know Kuta beach? This beach is the most famous icon in Bali. Many visitors come every day both local and foreign visitors. This beach is known for its exoticism and you can do various activities there. Like playing soccer and beach volleyball, playing sand, surfing, and also sun-bathing.
Garuda Winsu Kencana (GWK)
Garuda Wisnu Kencana or commonly called GWK is one of famous icons in Bali. GWK is a place of Indonesian cultural heritage for many years. Even now there a Garuda Wisnu Kencana statue has been made for symbolizing the god Vishnu, who is riding Garuda, as his best friend. There are art teasers that featuring various Balinese arts and dances, and there is even a festival held there.
Waterboom Bali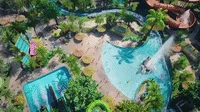 Waterboom Bali, an interesting spot to play water and is perfect for visiting during the summer. Waterboom Bali is the best water park in Asia and even became the 2nd best in the world. Here you can test your guts with a variety of water rides such as Climax, Smashdown, Pipeline, and many more. With ticket prices ranging from $ 18.30 for children and $ 22 for adults.
Double Six Beach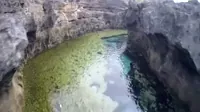 Double six beach is almost the same as Kuta beach, a favorite beach for foreigners who come to Indonesia. Why is the name of this beach double six? It turns out that the name of the beach is taken from the name of a night club near the beach. On this beach, you can enjoy the sunset while hanging out in bean bags, exercising, surfing, and much more. And there is also a bungee jumping with a height of about 400m, very suitable for testing your adrenaline.
Hidden Canyon, Beji Guwang
Apparently in Bali also has a hidden place that is very interesting to explore. Hidden Canyon Beji Guwang is a canyon formed by the erosion of river water and makes it a deep and narrow valley. However, this place is very suitable to be your Instagram content. With the milky blue water and also the sunlight coming in through the gaps of the rocks makes your photos very beautiful. But remember, this place is quite dangerous to pass. So always follow the guide there.
The Secret Garden (Sambangan Village)
Just like its name, this place is hidden and not many people know it yet, The Secret Garden Sambangan. A place with views and waterfalls that are ready to make visitors amazed to see it. And of course, this place is perfect for getting good photos. But the way to reach it is also rather dangerous. So stay save.
Lempuyungan Temple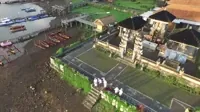 This temple is a place of worship that has its beauty for visitors who come to it. The place that is suitable for taking pictures has a beautiful regal mountain setting and added lighting that will support your photos later. Because this is a place of worship, I hope to maintain your attitude and behavior ya, travelers!
For people from outside Indonesia, that want to live in Bali. You can start by learning Indonesian Language and learn about culture. Of course in Cakap, you can learn bahasa Indonesia. Cakap provides bahasa Indonesia course in Bali. You can learn online with flexible time.