Being one of the oldest surviving civilizations in the world, China boasts such a rich and diversified history and culture. Tasting its cuisine would be one way to get a taste, literally, of that history and culture. But, since China is huge, let's get an idea of dishes found in their provinces and territories.
Cantonese cuisine is famous all over the world distinctively because the dishes are steamed and stir-fried making it healthy and non-greasy and have a tender, slightly sweet taste with a mellow fragrance. A few examples would be steamed dumplings, roasted pork buns (char siu bao), Hainanese chicken rice, claypot rice (bao zai fan), and congee with lean pork and century egg (pídàn shòuròuzhōu).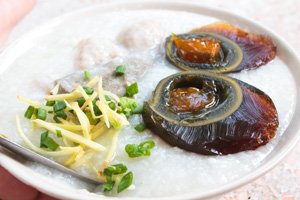 Shandong cuisine (aka the Lu cuisines), originating from East China, mostly features seafood – scallops, prawns, clams, sea cucumbers – and sports salty flavors. Shandong cuisine is derived mostly from the two native cooking styles of Shandong: Jinan cuisine and Jiaodong cuisine. Some famous dishes from Jinan are sweet and sour yellow river carp, Jinan roasted duck, and quick-fried pork kidney. Some Jiaodong dishes are courtyard sea cucumbers, prawns steamed in clear broth, and quick-fried sea snails.
Zhejiang cuisine is highly contributed by the specialties of Hangzhou (most popular), Ningbo and Shaoxing in Zhejiang Province. It also thrives on seafood, but has soft, fresh flavors. Their food is renowned for its delicate appearance. They also like using bamboo shoots. Some famous dishes include Beggar's chicken, lion's head braised with crab-powder, and Dongpo steamed pork.
Szechuan cuisine is typically very spicy because they use a lot of garlic, chilis, and the Sichuan peppercorn. Szechuan cuisine offers more beef dishes than other Chinese cuisines due to the many oxen found in its region. Some famous dishes are 'Pockmarked Granny' bean curd (Mapo Tofu), Sichuan hot pot, and Dandan noodles (Dandan mian).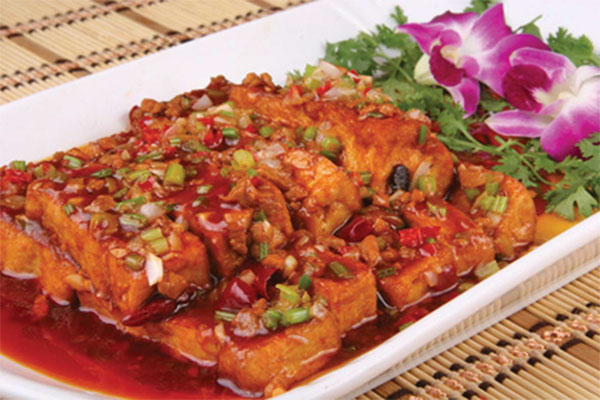 Anhui cuisine (aka Hui cuisine), from the cooking styles of the Huangshan region in southern Anhui Province, is renowned for its strict and regulated cooking techniques and preparation methods. It uses a variety of herbs and vegetables, especially, fresh bamboo and mushrooms. It also use a lot of wild herbs to enhance the flavor and aroma. Some famous dishes are stinky tofu (Mao Doufu), Huangshan braised pigeon, and Royal Pot (Yi Pin Guo).
Fujian cuisine (aka Min cuisine or Hokkien cuisine) is usually served in a broth or as a soup using braising, stewing, steaming and boiling. This cuisine uses fresh ingredients from the mountains and sea in soup making and focuses on seasonings used. Particular attention is paid on the knife skills and cooking techniques of the chefs that are said to enhance the flavor, aroma and texture of seafood and other foods. Some famous dishes you should try are Buddha jumping over the wall, steamed abalone with shark's fin and fish maw in broth (fotiaoqiang), and sautéed phoenix-tailed shrimp.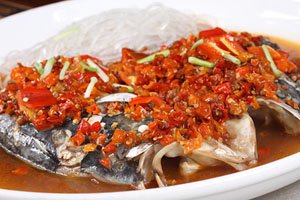 Hunan cuisine (aka Xiang cuisine), renowned for its stews, braised, and baked dishes, sports a hot spicy flavor, fresh aroma and deep color. Some famous dishes include Dong'an chicken (Dong an zi ji), steamed carp heads covered in scarlet pickled chilies and pungent black beans (Duo jiao zheng yu), and stir fried Chinese leaf cabbage with chopped salted chilies (Duo jiao chao ya bai).